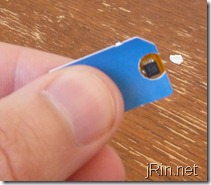 As you know the Rebel simcard Team are always working very hard to make the impossible possible. After Many long sleepless nights and over 200 man hours of Development and testing has gone in to this new firmware for the v1.2 Rebel sim II.
This new firmware V1.2 for Rebel Sim II is created for phones that have the following OS systems.
Windows Mobile Android  Web OS
As you know the number of smart phones that appear in the marketplace with these OS's is growing every day.
Most of the Smart phones cannot be unlocked by normal cable/software based methods. A hand full can be unlocked by purchasing unlock codes or credits to server based unlock solutions but often costing in the region of £25 per phone.
Normally all phones sold by network operators are locked on to the one network the phone is sold on to.
In the UK Dell streak is sold only by O2
In the USA Dell Streak is sold only by AT&T
Dell Has signed Exclusivity deals with the operators for the countries it supplies in.
The Current scenario is like this
You can buy a dell streak direct fro USA an it will still come locked on to AT&T
You can buy a dell streak direct fro UK an it will still come locked on to 02.
So you can say their is No Sim Free Version of the Dell Streak Available and not even direct from Dell as they are bound by contracts they have made for exclusivity.
As Far as being able to obtain a unlock code to enter in the phone to unlock will be a near impossibility as the phones codes are held by the network operators who locked then.
Not Even Dell can supply a unlock code for the locked phones as they would themselves need to contact the network operator who locked the phone in the first place eg AT&T in USA or O2 in the UK.
However all is not Lost and their is only one company in the World who can provide a Stable Solution to allow use of restricted network simcard on the Dell Streak. Solutions Point Limited based in the UK creates a Product Called the Rebel simcard II is the only unlock solution for the Dell Streak for Now.
Its a small chip on a wafer thin pcb that sits under your network card in your phone and does the Magic and allows use any other network simcard and best of all without the use of cables or software or codes and all this without loss of warranty.
Dell Streak Unlock To any network with Rebel simcard II Video demo
You can download the new firmware FREE  here or on the downloads page here if you already have a Rebel simcard II and  a programming adapter. Take advantage of being able to unlock the Latest Smart Phones when no other methods exist.
Video of How To Upgrade or Reset Rebel Simcard II Back to Default Mode and insert in to the compact or pro rebel programmers  to load a new firmware on the Rebel simcard I or II

To order a programmer please see this section here
Rebel Simcard is a very advanced kind of smartcard technology which can be upgraded .
Rebel Simcard Team Work on new updates and publish these online to further enhance the compatiablity of rebel simcard with the latest mobile phones released.
Rebel Simcard II Firmware Versions

Description

Rebel Menu

Date

Download

Rebel Simcard II update Firmware v1.2

HOT


Special Firmware for HTC Dell Palm Motorola Phones with Windows Mobile & Android or Web OS

This Firmware has no STK menu and once loaded on to Rebel Sim II its Ready to Unlock all the Newest Models like HD2 Desire Legend Palm Pre Palm Pixi Palm Pre Plus Dell Streak Motorola Droid and 100s of others

No Need to Change modes as this firmware does not have a rebel sim menu for modes and needs no Config once Loaded.

Simply program card and enter in your phone to unlock

No
16 Aughust 2010
Downloa
Unlock HTC Desire with android 2.2 to any network with full 3G with rebelsimcard II V1.2
Video Done By a Customer
Unlock the full range of Web Os Palm Phones without cables or software on WebOs 1.4.5
Video Done By a customer
The new Palm pre firmware 1.4 has been released.
However Rebel sim II is not Fully Compatiable with 1.4 firmware unless some firmware modifications is made but Rebel Simcard II is still the only way to unlock the Palm Pre phones.
Users who upgrade to the 1.4 WEBOS firmware will not be able to use the 3G UMTS networks.  The 1.4 WEBOS firmware restricts the Rebel simcard II from being able to Generate Network Authentications keys due to the Modem Baseband software being updated by the 1.4 firmware.
Use blog link to download a Free tool to help you downgrade
http://blog.rebelsimcard.com/beta-baseband-downgrade-tool-palm-pre-phones-released.htm